Recording/Mixing/Mastering
Willing to work with all genre's.  This picture perfectly summarizes the process.  You can learn more at on my "About Me" page. Examples of my work are on my DISCOGRAPHY.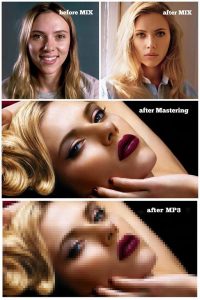 Videography/Music Videos/Short Films/Live Streams
Full video production with Netfix approved cameras. Can do multi-cam in full 4k resolution. Multi-cam live stream capable in 1080p to YouTube and Facebook.  Also a licensed commercial drone pilot with my own drone.
Live Sound/Live Recording
Can supply PA or run a PA for your band or event.  Can also record the performance and mix it.  Perfect for demos and live album releases!
Equipment Sales
Dealer for many brands of pro audio equipment and musical instruments. Eminence, Seymour Duncan, Allparts, QSC, JBL, Mackie, Shure, Sennheiser, and more.
Repair
Amps, pedals, guitars, solid state or tube.
CD/Cassette Duplication
Short or large runs, retail ready. Please don't use a sharpie, I can do it cheaper.  Vinyl coming soon.
Website Development and Hosting
Build and host your website.
Music Distribution
Can distribute via my label Entelodon Records.  Get your songs on iTunes, Spotify, and more!
Show Promotion/Event Planning
With many years of experience, I can handle logistics, licensing, promotion, and management of concerts and events.
Video/Graphic Design/Merch
I work with many partners for video production, graphic design, merch printing, and more.